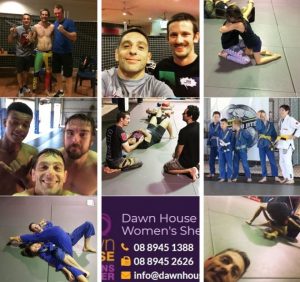 WOW!!! Another huge week at the club. We turn 10 this week so keep an eye out for our 10 year anniversary and award function date to be announced.
The ladies got us off to a great start with 100% of last weeks class coming back for more. The rate at which they are picking up the new skills is amazing. From a coaches perspective, this is one of our favourite classes to teach, the enthusiasm and laughs are contagious. As discussed previously 100% of the proceeds from this 10 week cycle of the class will be donated to charity. Dawns House was chosen as the charity of choice for the group. A great cause for a great class!!! Keep up the good work.
The kids classes are rehearsing this terms techniques in preparation for the end of term competition. Be sure to keep the first Saturday of the next holidays free as these comps are always a fun learning experience for our students. The Kids 2 class had a discussion about bullying and when BJJ can be utilised. The last week of the term will deal with this topic some more.
We topped off the week with Luke's MMA fight in Darwin. The club came out in strength and Luke had the loudest group of supporters on the night. The first round flying arm bar did not disappointment them. Well done Luke, what a great evening for all involved.
We had a amazing response to our social media ad for the beginners class this week, so please continue to support us, promote your club by sharing our content and encouraging your friends to give Jiu Jitsu a go