Junior 1 classes are for 5 to 9 years old and teach basic techniques from white to grey belt.
Children can wear shorts and t-shirt when they first start and then purchase an Academy uniform (Gi – jacket, pants and belt).
Class Times
They are held on Tuesday 5.30 PM and Thursday 5.30 PM.
Class Fees
12 month contract $30 per week
Upfront 1 term $260
Upfront 4 terms $880
Membership Details
All memberships are for unlimited classes.
Third and subsequent youngest family members are free.
12 month contract members school holiday programs are free.
Sports vouchers accepted for upfront payments only.
Class Coaches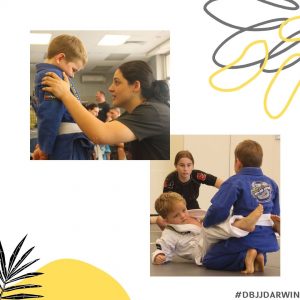 Maria is the head junior 1 coach. She is a blue belt in jiu jitsu and has represented the club at both local and interstate competitions. Maria previously trained in MMA and brings with her a wealth of experience in grappling and take downs. Maria has proven to be popular with both parents and kids alike.
Cheyenne is the assistant junior 1 coach. She is a green belt in jiu jitsu and one of our up an coming juniors being a member of the junior elite team. Cheyenne started with the club at a young age and regularly competes at local and interstate competitions. She loves helping with the kids and has a bit of fun too.
Testimonial
Professional and the best in Darwin!!!!
Amazing place for adults and children! My children have been going here for 4 years and I began my Jiu Jitsu journey nearly 2 years ago. The coaches are amazing, professional and the best in Darwin!!!!!!!!!
@NATTYSYMO – August 2020
Contact Details