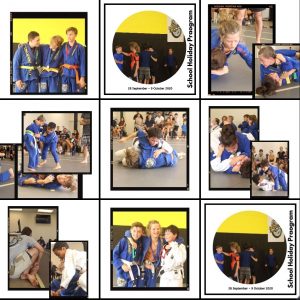 One week of the September 2020 school holidays down already.  Holidays are a fantastic time to look at kids individual needs and teach difficult new techniques.  Last holidays the theme was
around the importance of grips in the gi and control in no gi.  To build on those skills we have spent the week on the importance of using all 4 posts.  The class was quick to start trying out their improved moves when rolling.  The arrival of our new crash mat also meant some BIG throws on Thursday.
The recent comp was very successful and those of you on social media would have seen the fantastic photos Dave was kind enough to take for us.  With the trial format a huge success we will be aiming to run the next comp mid-term and invite other Jiu Jitsu schools in the area.
The adult blue belt program continues to grow with many newbies having added their Jjiu Jitsu training into daily routines.  The consistent high class numbers is testament to the program content and environment we are lucky to have.  Some of the members that started with us this year have stepped up their training and are now attending open mats and morning classes.
With Melbourne restrictions lifting we are hopeful that Peter will be able to come to Darwin for a seminar by the end of the year.  If you have not attended one yet make sure you make it a priority in your calendar when we announce the date.  Apart from Pete's visit, keep an eye out for the JET camp, junior comp and Award evening.  Voting forms for the 2020 Adult Best & Fairest and Most Improved, will be out soon.
Thanks again to all of you that supported us during the COVID 19 period.  We are very lucky to have a great membership that share our vision for a positive Jiu Jitsu experience for all.