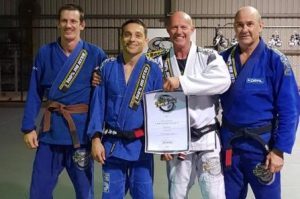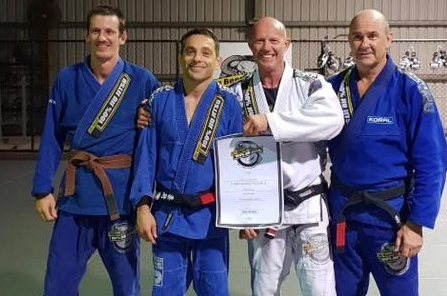 The recent Peter De Been visit highlighted the value of the academy system, with members getting a couple of hours of refining their techniques with one of Australia's best. The teams side control defence improved out of sight this week!!! The informative evening was topped off by Chris being awarded his black belt! For the academy to receive its 2nd black belt from Pete in our 10th year was fantastic. For those who missed Chris stated 'thanks to all my team mates, these moments can't happen without your support.'
The visit was topped off by Luke, Darren and Chris supporting Pete on his Jakarta leg of seminars.  The Indonesian team was super friendly and were very appreciative to have the Darwin Academy owners visit. The 2 seminars and competition gave us the opportunity to develop important networks in an area where the sport is growing at phenomenal rate. We look forward to taking a bigger team to visit again sometime soon.
The Ladies introductory 10 week program has come to an end. As noted previously, the class was amazing and the feedback has been outstanding. Be sure to join us celebrate their achievements at the Nightcliff Foreshore Café this Saturday at midday. Ladies classes resume Monday and Wednesdays at 5.30 starting on the 26 th November. DM Chris on Social media if you need any further info.
The 10th Anniversary dinner is already here. Only a couple of tickets left (at the front desk) so don't miss out. The evening starts at 7pm at Tim's Surf and Turf Darwin City. The voting cards for the Best & Fairest and the Most Improved are also available at the front desk. Have your say, it is your opportunity to recognise our awesome teammates. If you can't come in send your votes on DM to
Chris before the end of Thursday night's class next week. The awards for Diva/Princess, Most Travelled, Dummy Spit, Strong Man will also be awarded on the night. The kids xmas party will be held the following week, keep an eye out for all information on Facebook and our website.