We offer three senior programs. Blue belt classes are for new students and teach basic techniques from white to blue belt. Gi and No Gi classes are for experienced students and teach advanced techniques from blue to black belt. Included inthe programs are competition classes. There is also annual ladies self defense program.
BLUE BELT
Monday 5.30PM
Wednesday 5.30PM
GI
Monday 6.30PM
Thursday 6AM
Friday 6PM
NO GI
Tuesday 6AM
Wednesday 6.30PM
Sunday 9AM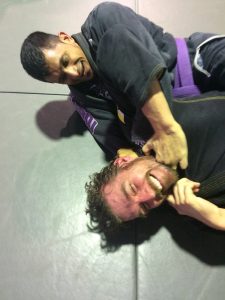 12 MONTH CONTRACTS
Down payment $350 and $31.12 per week
Down payment $300 and $38.08 per week
Down payment $100 and $44.23 per week
Down payment $0 and $34.62 per week (student)
UPFRONT PAYMENTS
12 months $1,800
12 months $1,440 (student)
6 months $1,150
1 month $252
1 week $84
1 casual class $25
12 months upfront payment includes a senior GI for free.
All memberships are for unlimited classes.
Third and subequent youngest family members free
Private classes available upon request – additional cost applies.